Delaware is a U.S. state located on the Atlantic Coast and the Mid-Atlantic region of the United States. Delaware was the first state of the new Union and was admitted into the union on December 7, 1787. Delaware's largest city is Wilmington and the capital is Dover. Delaware also ranks as the second smallest state in the area after Rhode Island. These are the 15 most famous people from Delaware.
Valerie Bertinelli (1960-?)
Valerie Bertinelli was born in Wilmington, Delaware. Valerie Bertinelli used to be married to rocker Eddie Van Halen, she is now married to Tom Vitale and they were married on January 1, 2011. Valerie Bertinelli is a famous actress who is best known for her role in the 1970s and 1980's television show called One Day at a Time. She dated Steven Spielberg before she was married to Eddie Van Halen.
Henry Heimlich (1920-2016)
Henry Heimlich was born in Wilmington, Delaware. Henry Heimlich is a physician who is credited with inventing the Heimlich maneuver to save choking victims. He also advocated using the controversial and unproven use of Malaria as a treatment for HIV. Heimlich was voted into the Safety and Health Hall of Fame in 1993.
James Tilton (1745 – 1822)
James Tilton was born in Dover, Delaware. He was a physician and soldier from Dover, Delaware. James Tilton was a delegate for Delaware in the Continental Congress in 1783 and 1784. He served as Surgeon General of the United States Army during the war of 1912. James Tilton served with distinction during the Revolutionary war with the 1st Delaware regiment.
Sugar Ray Leonard (1941 – )
Sugar Ray Leonard was born in Wilmington, Delaware. He was an Olympic boxing champion who won 5 gold medals; He also won numerous awards and was a member of one of the best boxing teams ever.
Eldridge Reeves Johnson (1867 – 1945)
Eldridge Reeves Johnson was born in Wilmington, Delaware co-created the Victor Talking Machine Company alongside Emile Berliner, a United States corporation, and built it into the leading American producer of phonographs and phonograph records and one of the leading phonograph companies in the world at the time. In 1901 he incorporated his company and there is a foundation in his name called the Eldridge Reeves Johnson Foundation, this foundation is affiliated with the University Of Pennsylvania School Of Medicine.
Caesar Rodney (1728 – 1784)
Caesar Rodney was born in Kent County, Delaware, he was a Patriot, signer of the Declaration of Independence; lived in Kent county. He was an officer in the Delaware militia during the French and Indian War and the American Revolution. Caesar Rodney was a member of the Continental Congress from Delaware and a President of Delaware during most of the American Revolution.
Edward Ernest "Judge" Reinhold, Jr. (1957 – )
Edward "Judge" Reinhold was born in Wilmington, Delaware. He is a famous American actor best known for his roles in Beverly Hills Cop, Ruthless People, Fast Times at Ridgemont High, and the Santa Clause trilogy. Judge Reinhold also works with the Boys/Girls clubs of America.
Phineas Banning (1830-1885)
Phineas Banning was born in Wilmington, Delaware. He was an American businessman, financier, and entrepreneur. Phineas Banning is known as the "Father of the Port of Los Angeles." He is one of the founders of the town of Wilmington. Banning operated a stagecoach line from San Pedro to Wilmington, Banning, California was named in his honor.
Patrick Kerr (1956 – )
Patrick Kerr was born in Wilmington, Delaware. He is an American television actor. He is best known for his recurring role as Noel Shempsky on Frasier.
Elisabeth Shue (1963- )
Elisabeth Shue was born in Wilmington, Delaware. She is an American actress who played in Leaving Las Vegas. Elisabeth Shue also appeared in the original Karate Kid and Back to The Future II and II as Jennifer Parker/McFly and many other films.
Nicolas Van Dyke (1738-1789)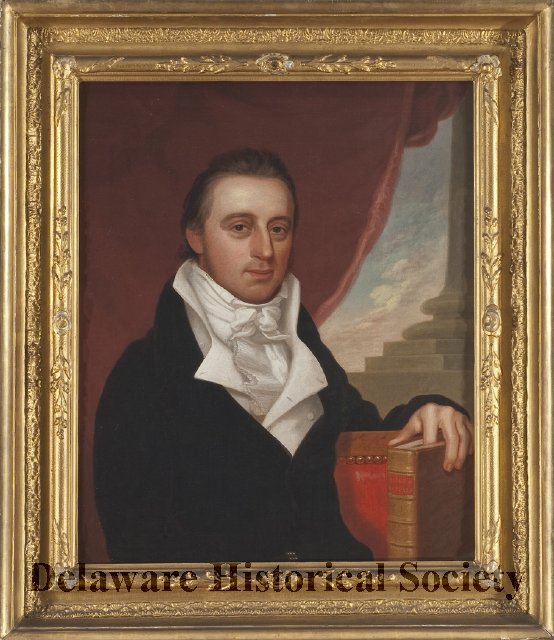 Nicolas Van Dyke was born in New Castle County, Delaware. Nicolas Van Dyke was the President of Delaware 1783-1786, Continental Congressman from Delaware 1777-1782, and a lawyer. It was during his tenure as President of Delaware that the American Revolution officially ended with the Treaty of Paris signing in 1783.
Delino DeShields (1969- )
Delino DeShields was born in Seaford, Delaware and he was a Major League Baseball Second Basemen for the Montreal Expos, Los Angeles Dodgers, St. Louis Cardinals, Baltimore Orioles, and the Chicago Cubs. He played for 13 seasons and ended his career with a .268 batting average. Delino DeShields is the founder and Vice President of the Urban Baseball League and travels with Oil Can Boyd with the Oil Can Boyd Urban All-Stars and he will be a field manager for the Cincinnati Reds minor league team Dayton Dragons in 2011.
Mary Ann Shadd Cary (1823-1893)
Mary Ann Shadd Cary was born in Wilmington, Delaware. Her father key figure in the Underground Railroad and a subscription agent for William Lloyd Garrison's abolitionist's newspaper, The Liberator, in 1840 Marry-Ann Shadd began a school for black children in West Chester, Pennsylvania, she also taught in Norristown, PA, and in New York City, she was an advocate for freedom, equality, and integration, in the Civil War Mary served as a recruiting officer to enlist black volunteers for the Union Army, in 1883, she graduated Howard University School of Law and became only the 2nd black woman in the United States to earn a Law Degree. Mary Ann Shadd Cary joined the National Woman's Suffrage Organization and worked alongside Susan B. Anthony and Elizabeth Cady Stanton for woman's suffrage and was the first black woman to cast a vote in the national election.
William Henry Harrison Ross (1814-1887)
William Henry Harrison Ross was born in Laurel, Delaware. He was an American farmer and politician. William Henry Harrison Ross was a member of the Democratic Party and the Governor of Delaware, he was a slave owner and was sympathetic with arguments intended to promote slavery.
Teri Polo (1969- )
Teri Polo was born in Dover, Delaware. Teri Polo is an American actress known for her roles Meet the Parents, Meet the Fockers, and Little Fockers. She has also guest-starred in many television stars and was one of the stars in "I'm With Her" and "The West Wing"

Honorable Mention-John McKinley was President of Delaware from the Federalist's party
Delaware was the first US state and is the second smallest state. Many famous people came from this tiny state set on the Atlantic Coast. Valerie Bertinelli is a famous actress, while Delino DeShields used to play baseball in the Major Leagues. Delaware was the birthplace for a famous slave owner and a woman who fought for the rights of African-American slaves and women and became the first black woman to place a vote in the general elections of our country. Delaware may be a tiny state, but its history is rich and an important part of our United States.